We are Bob McCloskey (D-CA), 29th C.D., and Charles Coleman, Jr. (D-CA), 28th C.D. and Marcy Winograd (D-CA), 36th C.D. We are candidates for the U.S. House, and founders of the Impeach Team. But we're not just waiting to get elected, we are standing up for you right now.

Please join us in calling for the IMMEDIATE impeachment of both president George W. Bush and vice-president Dick Cheney. What is this talk about waiting until November? Why are our current representatives not demanding immediate accountability? Every day that passes brings revelations of more egregious abuses of power and more outrageous lies told to the American people. To find out more about the other things we are standing strong for, please visit our web sites, Bob McCloskey, Charles Coleman, Jr. and Marcy Winograd


| | |
| --- | --- |
| | WON'T YOU MAKE A DONATION TO HELP US RUN THIS CALL TO ACTION RADIO SPOT ON IMPEACHING BUSH AND CHENEY NOW? Direct link to MP3 |

Your donation of any amount will help us rally more people to build the people's impeachment movement. The Impeach Team is already buying as many ads on Air America Radio as they can, to call all those who care about saving our country into action. And with your support in a couple days there will be radio spots on KNX and other top L.A. stations to let people know there are real alternatives in our own districts, candidates who are standing up and fighting NOW. Just choose a candidate (we are all committed to applying your donations in the same way) to contribute to, affirm your eligibility and select either the PayPal, the ActBlue, or the Online Contribution button below.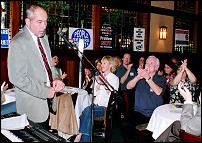 Bob McCloskey
Retired Labor Union Organizer & Peace Activist (D) 29th Congressional District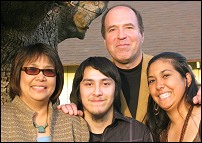 Charles Coleman, Jr. (with Divina, Charles III and Emyrene)
Teacher, Peace Activist & '04 Candidate (D) 28th Congressional District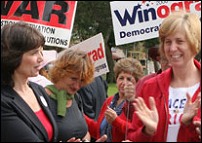 Marcy Winograd (with Cindy Sheehan)
Teacher & Peace Activist (D) 36th Congressional District