We are Marcy Winograd (D-CA), 36th C.D., and Bob McCloskey (D-CA), 29th C.D. and Charles Coleman, Jr. (D-CA), 28th C.D. We are candidates for the U.S. House, and founders of the Impeach Team. But we're not just waiting to get elected, we are standing up for you right now.

Please join us in calling for the IMMEDIATE impeachment of both president George W. Bush and vice-president Dick Cheney. What is this talk about waiting until November? Why are our current representatives not demanding immediate accountability? Every day that passes brings revelations of more egregious abuses of power and more outrageous lies told to the American people. To find out more about the other things we are standing strong for, please visit our web sites, Marcy Winograd, Bob McCloskey and Charles Coleman, Jr.


ACTION PAGE:

Tell Congress To Oppose The Appointment Of General Michael V. Hayden As Director Of The CIA


It has now been widely reported that the NSA has in fact been monitoring virtually every domestic phone call in the US, and they're even spying on reporters. In doing so they had gone out of their way to escape the scrutiny of the Foreign Intelligence Surveillance Act (FISA) court, which the Bush administration has already declared in public it would flagrantly disregard. And yet they are now pushing General Michael V. Hayden, the prime overseer of this vast domestic spying program, to take over the already demoralized CIA as well.

When challenged on this recently General Hayden proclaimed, "Believe me, if there is any amendment to the Constitution that employees of the National Security Agency are familiar with, it's the 4th," after having just denied [Video] that there was any reference to the expression "probable cause" in there to regulate unreasonable searches and seizures.

Even Republican leaders have admitted this warrantless spying program is "clearly and categorically wrong." And it is just as wrong to allow a military takeover of a civilian intelligence agency. Please tell your members of Congress to stop the "wrong wing" takeover of our entire government.

The one click form below will send your personal message to all your government representatives selected below, with the subject "Oppose General Hayden For CIA Director." At the same time you can send your personal comments only as a letter to the editor of your nearest local daily newspaper if you like.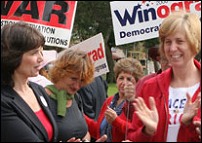 Marcy Winograd (with Cindy Sheehan)
Teacher & Peace Activist (D) 36th Congressional District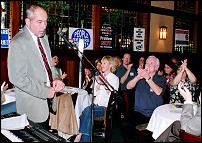 Bob McCloskey
Retired Labor Union Organizer & Peace Activist (D) 29th Congressional District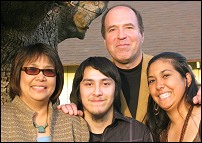 Charles Coleman, Jr. (with Divina, Charles III and Emyrene)
Teacher, Peace Activist & '04 Candidate (D) 28th Congressional District